The blockchain-powered advertising technology platform, AdEx Network has announced a major update that marks its foray into the DeFi space. It involves the deployment of an updated ADX token contract on the Ethereum network to enable token staking and security mining, along with availability of built-in flash loans.
The updated ADX contract enhances the tokenomics while keeping most of the existing features intact. The launch of the security staking feature enhances the existing staking mechanism by offering additional rewards for those who wish to lock their ADX in the interest of AdEx Network's health and security. In order to pay-out the additional rewards to active (bonded) stakers, the platform will be issuing 7 million fresh ADX tokens, to be distributed among eligible network participants by the end of 2020.
According to the platform, the distribution of newly minted ADX will take place in two parallel phases. The distribution phase involving 6 million ADX tokens distributed proportionally between pool stakers at 5-minute intervals and the early bird phase with an additional 1 million ADX for those signing up before August 10, 2020. Meanwhile, all ADX stakers will continue to receive the existing staking rewards for validating transactions which is a portion of advertising revenues in DAI generated by AdEx Network. To benefit from the new AdEx pool rewards, token holders must create a bond to lock their ADX stake on the platform's updated staking portal.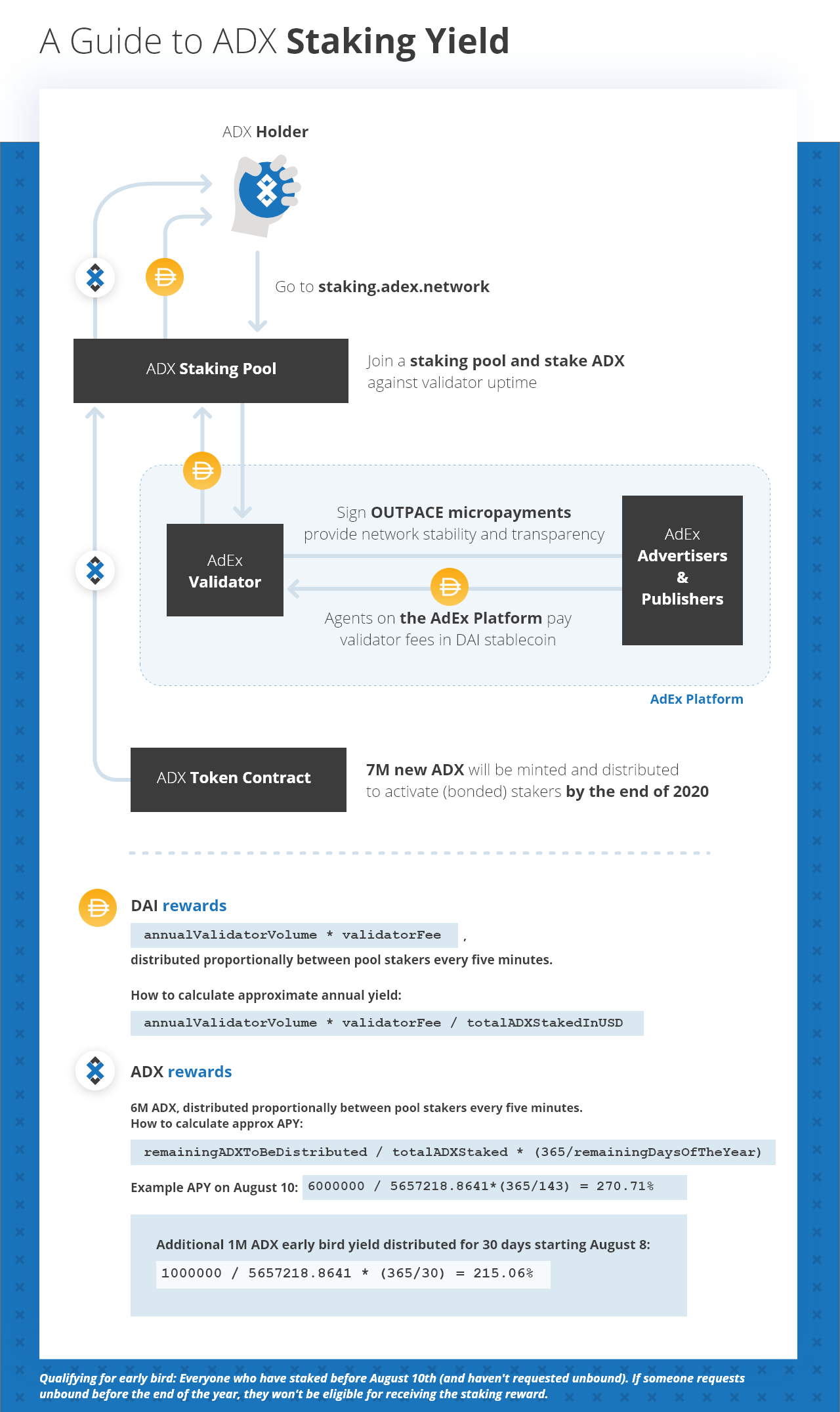 While the bonded staking enhances the security of AdEx network, the built-in flash loans introduced as a part of the token contract update makes ADX the first ERC20 token to offer such a feature. Now, anyone on the open-source, transparent, and fraud-proof digital advertising network can instantly borrow ADX, provided that they return them by the end of Ethereum transaction. It offers users access to liquidity, allowing them to put those funds to different uses including arbitrage on decentralized exchanges for easier trading. Even though the initial use case seems limited, it creates a base for the platform to create various DeFi products on top of it to cater to various needs of the users.
The AdEx team is also working on improving the platform's rewards distribution system. Once implemented, the upgrade will help reduce gas costs on transactions which will make withdrawing rewards cheaper.