One fact I have learned through my years of online work is that MLM, network marketing or affiliate marketing IS definitely NOT about the system or the company, but it is all about YOU. Whether YOU want to promote a local business, a church, a school or a store, or want to start a business online YOU will certainly going to need a specific essential tools to build up YOUR business or businesses if you are building up your income portfolio (good hosting to build your own website, then you need a quality anti-spam compliant pro double opt-in autoresponder to let the world know about your business, tracker to track your results, and to advertise your opportunity without spending a fortune, splash builder to build your essential splash pages).
All this and much more can be found in one of the best Internet Business Platform I have come across – AIOP (All in One Profits).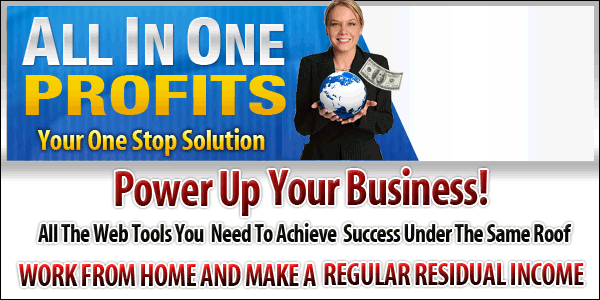 AIOP is an ambitious company Founded in 2012. The CEO's of the company are Johan Van Geffen and Isabela Capsuna, both are very well respected in the industry, lead by principles of: honesty, integrity, transparency, legality, trust and support. Company is state-of-the-art business and integrates a suite of essential web tools, products, services and advertising, this includes professional web hosting and one of the best autoresponders around.
These services are offered at a very affordable price that many people can afford to pay.
AIOP allows their members re-selling rights to their "in demand product line" and by doing so, creates a nice monthly residual income for them.
What caught my attention in this opportunity was the low start up cost, in-demand product line and the opportunity to make a lot of money.

---
Cost of: BASIC membership is $10/month and $20/month for the PRO membership.
(Click here to read more about products and memberships)
---
(In the worst case scenario, if you never get any members to join, you will end up paying $10 a month out of pocket. With all the quality state-of-the-art tools and resources you get from one site, to build ANY business you like, including AIOP it is far the most affordable price versus quality I have ever come across on Internet. And that my friend, I can live with. By the way, do you know HOW much Aweber costs per month just for an Autoresponder?)
There are many people worldwide who wish to start an online business and work for themselves from the comfort of their homes. Unfortunately, many individuals cannot afford the high start up costs with the more traditional high income opportunities as excellent as they may come by. The great thing about the AIOP business, is that it eliminates this huge hurdle and helps the average person who is motivated to do the basics to position themselves with a solid and successful online company thus becoming a lot easier for them to make a good income.
In addition to the in demand product line-up, AIOP also offer a very lucrative and innovative compensation plan, which is unheard of in this industry. To be completely honest with you, I've never seen ANY other compensation plan in whole my online career that comes close to matching this one in terms of income opportunity. The reason for this is unique innovative "EVEN UP system" (click here to read more about it).
You break even with just 1 referral and they pay 100% commission residual income ($10) on all affiliate sales (basic membership) for each Uneven (fixed) upgraded referral you will introduce to the program. It is amazing ultimate decision of the company to reward their affiliates. Really more of a simple way to encourage and give hope to those struggling online.

---
 All In One Profits.com
Netherlands, Tilburg, NB
International TM®
OHIM CTM011480555