Another week, another round of Crypto Tidbits.
It's been another volatile week for the Bitcoin market. In the past seven days, the leading cryptocurrency has traded at both $11,100 and $12,000, whipsawing between the levels as the price enters a consolidation. Ethereum, on the other hand, has been surging higher; ETH now trades for $440 as of this article's writing, around 6% higher than the early August high.
BTC's drop towards $11,100 this week was triggered by a collapse in the values of precious metals. Gold saw its worst day since 2013 early this week, resulting in a similar correction for Bitcoin. The ongoing BTC rally towards $12,000 has been propelled by Ethereum undergoing a breakout of technical significance, slingshotting the asset higher.
Chart of BTC's price action over the past seven days from TradingView.com
Analysts remain optimistic about Bitcoin due to macroeconomic trends.
Dan Tapiero — the co-founder of DTAP Capital, Gold Bullion International, and a digital asset-focused fund — recently wrote in reference to the chart below:
"Tremendous long term Log Chart of #Bitcoin projects up 5-10x on this run. Just breaking up NOW. Should last a few years as 2.5yr consolidation is fantastic base for catapult up. Break of old highs will have explosive follow through. Time to sit and be patient."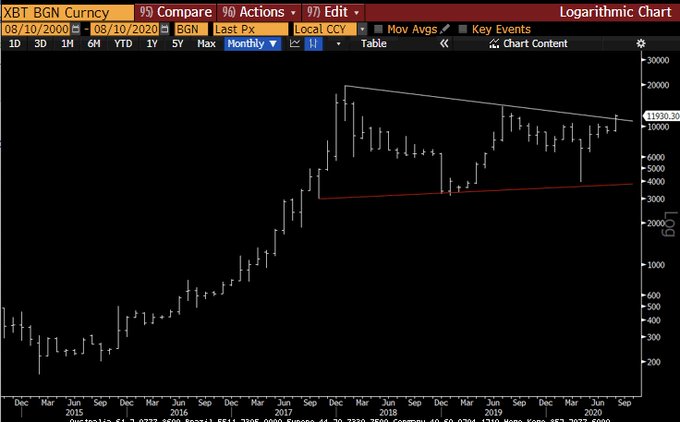 Chart of BTC's macro price action (Logarithimic chart) by Bitcoin bull and gold investor Dan Tapiero. Chart from Bloomberg
The optimism was echoed by Raoul Pal, the chief executive of Real Vision. The Wall Street veteran said that he thinks almost every other trade is "inferior" to Bitcoin. Pal added in a later tweet that for the next 24 months, there's a good likelihood Bitcoin will be the best-performing asset in existence.
"These are all INCREDIBLY BULLISH long-term chart patterns. The probabilities in the charts suggest that Bitcoin is likely set to be the best performing major asset in the world over the next 24 months and by a big margin."
Crypto Tidbits
MicroStrategy Acquires $250m Worth of Bitcoin: This week, it was revealed that MicroStrategy, an American business services company, had formally acquired Bitcoin as an investment. The company purchased 21,454 bitcoin with $250 million USD from its balance sheet, according to a press release. The company sees value in BTC, with its chief executive arguing: "This investment reflects our belief that Bitcoin, as the world's most widely-adopted cryptocurrency, is a dependable store of value and an attractive investment asset with more long-term appreciation potential than holding cash." This news is bigger than meets the eye, though. As I explained in a tweet, the California Public Employees Retirement System, Healthcare of Ontario Pension Plan, Vanguard Total Stock Market Index, and many other prominent funds own MSTR shares. This means that millions now have a stake in Bitcoin.
Bitcoin succeeding is now in the best interest of millions.

SEC filings indicate these funds own many MicroStrategy shares:

– California Public Employees Retirement System
– Healthcare of Ontario Pension Plan
– Vanguard Total Stock Market Index

Gradually, then suddenly. pic.twitter.com/s7teyP337b

— Nick Chong (@n1ckchong) August 14, 2020
Dave Portnoy Buys Bitcoin: At long last, Barstool Sports' Dave Portnoy bought Bitcoin. This week, the Winklevoss Twins from Gemini visited his place and taught him about Bitcoin and how to use their exchange. Portnoy bought $200,000 worth of BTC and $50,000 worth of LINK and added in a video published to Twitter that he wants to launch his own coin.
BitMEX Implements KYC: This week, leading crypto derivatives platform BitMEX revealed that it will be implementing mandatory Know Your Customer rules for all customers: "We will be launching our User Verification Programme at 00:00 UTC on 28 August 2020, where all customers will be asked to complete ID checks within the next 6 months. These new controls will enable us to create a more trusted and secure trading environment for all BitMEX users." Users will have a grace period until Feb. 12, 2021 to verify their identities to use the platform.
Ethereum DeFi Boom Causes Transaction Fee Boom: Due to a DeFi boom, Ethereum transaction fees have exploded higher. The cost of "gas," how transaction fees are calculated, reached over 300 Gwei this week. This is 3,000% higher than this metric was at the start of the year:
Photo by 🇨🇭 Claudio Schwarz | @purzlbaum on Unsplash
Price tags: xbtusd, btcusd, btcusdt, ethusd, ethbtc
Charts from TradingView.com
Crypto Tidbits: MicroStrategy's $250m Bitcoin Purchase, Ethereum DeFi Boom, BitMEX KYC